How well do you know your game?
As golf coaches it is our job to help improve your golf game. One key question we need to ask ourselves is: how can we measure this?
How can we measure success? Well, ultimately the scores at the end of the round tend to be the biggest judgements of success and failure but if you really want to improve the analysis of the round, it should go a lot deeper than that.
It's all in the stats
At the very least I believe every player looking to improve their golf should know:
– How many fairways they hit during a round.
- How many green in regulation they hit during a round? (A green in regulation is where the ball sits on the green on a par 3 after one shot, a par 4 in two shots and a par 5 after three shots.)
- How many putts they have? Record how many putts you take on each hole during a round of golf and add them together at the end.
Those last two particular statistics are combined below to give you an idea on what you would need to break the respective scores of 90, 80 or 70 in a round of golf:
| | | | | | |
| --- | --- | --- | --- | --- | --- |
| | | | | | |
| | Target score to beat (Course Par 70) | 90 | 80 | 70 | |
| | | | | | |
| | GIR (Greens In Regulation) | 3 | 8 | 14 | |
| | | | | | |
| | Putts | 34 | 31 | 28 | |
This information really is invaluable as it will serve to highlight where your strengths and weaknesses are and this information can then be used by your coach and yourself to improve your performance and your overall scores. For the even keener golfers amongst you, you can also record how many times you get up and down when you miss the green (chip and one putt), how far away you leave your chip shots from the hole, as well as your distances off the tee.Products that will help you on your journey
TaylorMade
A really in-depth app which I would recommend people to use is the myRoundPro app from TaylorMade. This gives you a strokes-gained figure for each shot you hit. You can set the baseline figures against a pro, scratch golfer or a 5, 10, 15 or 20 handicap. If you find the middle of the fairway, after hitting the ball 220 yards, or you have chipped the ball from 20 yards to within 5 feet of the flag - whatever shot you hit - this will tell you whether you have gained or lost strokes against your handicap target, based on where your shots have finished for every shot.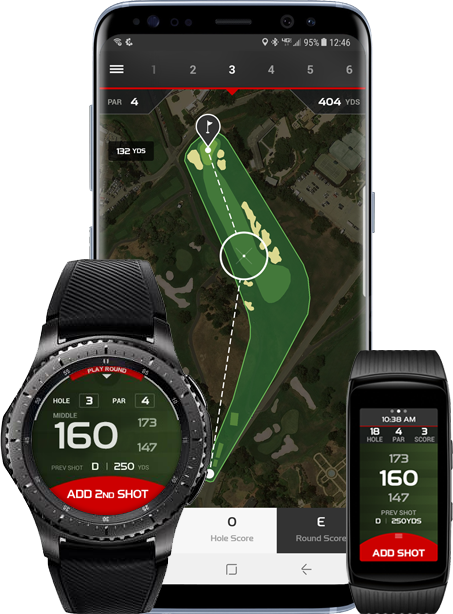 GarminAn even easier way of recording some of this information is via one of the Garmin GPS devices. Products like the S20 watch or the S60 watch will not only show you the distance to the hole but also will allow you to put in data, like if you hit the fairway, green and also how many putts you took as you go round the course.
With both devices you also have the option of adding what club you used on each shot, and then at the end of the round sync your device up to your phone, tablet or laptop, where it will show you a picture of each hole you played and how far each club went.
Next time you're on the course…So, with this in mind the next time you go and play - be it in practice or competition - at the very least make some notes about when you hit the green, the fairways and how many putts you take. This can give you some fantastic information to help improve your game.